The 7th SEISA Africa Asia Bridge 2021 Is Coming Soon!
カテゴリー:SEISA ニュース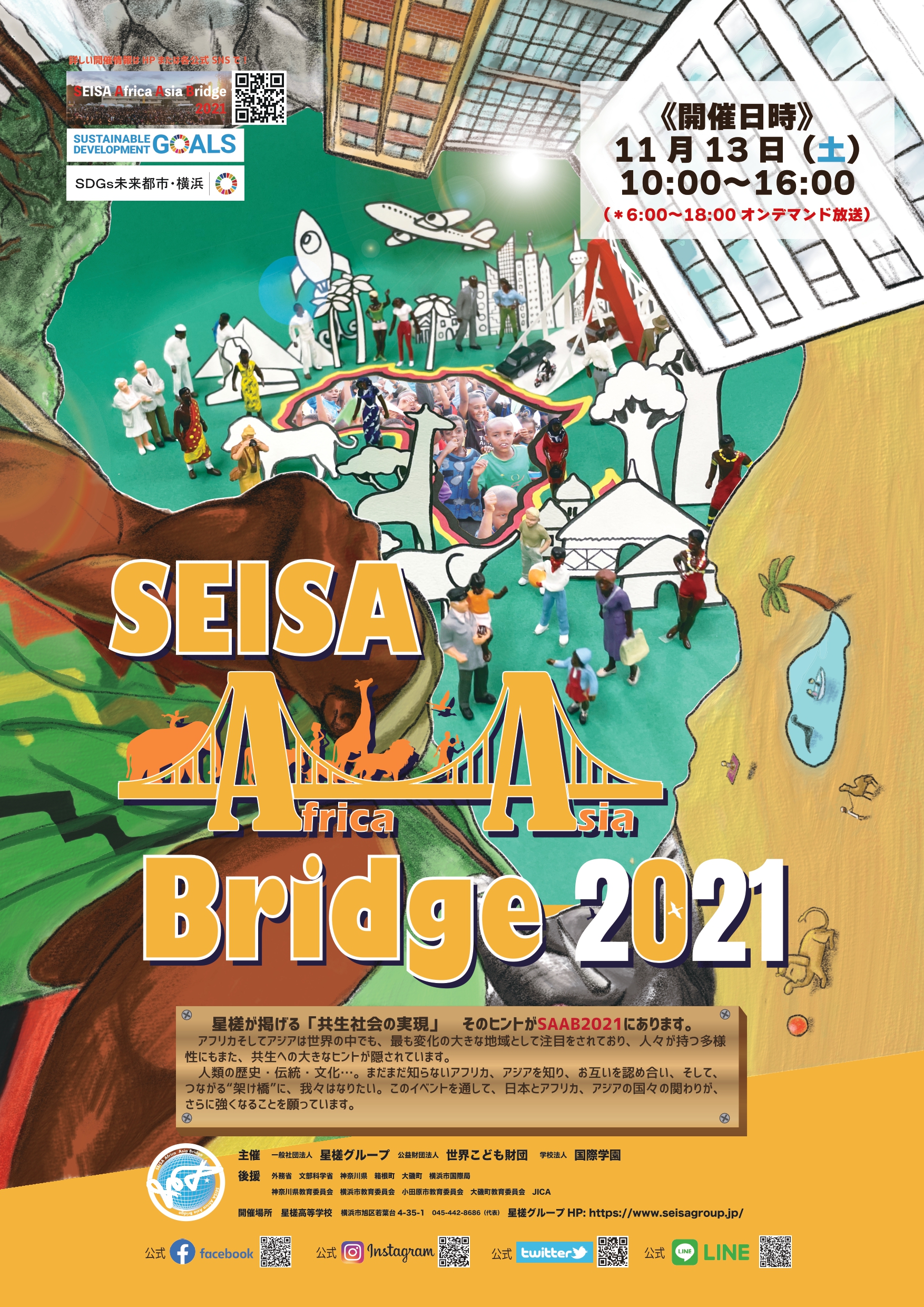 The 7th SEISA Africa Asia Bridge 2021 Is Coming Soon!
SEISA Africa Asia Bridge is the SEISA's largest integrated educational program, with a total of 55,000 participants in the last year.
Africa is now a continent with a lot of natural resources and as a hub for ICT development, it has become the centre of the world for many people. This is an important time to think about how we Japanese should face this change and how the world should be in the next 10 to 20 years.
We hope that the junior and senior high school students studying at SEISA now will know more about Africa and Asia than anyone else when they reach their 20s and 30s. We want them to make friends in Africa and Asia. With this in mind, we have held the SEISA Africa Asia Bridge (SAAB) six times so far, with the motto of "Creating A One-Day African continent in Yokohama".
In 2020, "I will not only be working on the SDGs for SAAB. I want to continue to take action even after graduation," said a graduate (former SEISA student council member, current SEISA Alumni Association member), who proposed a nationwide "SEISA CLEAN UP ACTION". On the day of the SAAB, members of the student council from all over Japan and overseas connected online to report and discuss the progress of the clean-up activities and the unique living conditions of each region and country.
We see it as a great achievement that there are students and graduates who have such a strong conviction that they will make SDG-related activities and actions their lifework as a result of this SEISA Africa Asia Bridge.
We will use this as an opportunity to think about what true "Kyosei Society (living in a harmony)" means, what a sustainable society means, what peace means and what we can do about it. We hope that this initiative will be sustained and become a seed of action for the next generation.
We strongly hope that we, who are closer in heart than in distance, will be able to create a peaceful world together, in Japan and in Africa, Asia and the Pacific.
▼ Click here to Participate in SAAB
Date: Saturday, November 13, 2021, 6:00 - 18:00 Online
This event will be a learning festival for students and teachers of SEISA, as well as for those who support SEISA including the local residents, government officials and our counter-partner countries, but of course it will also be open to the general public.