- March 13, 2021 - Bonding and Deepening Friendships through Japanese Drums. The Yokohama Taiko Festival 2021 Will Be Held in Yokohama, Japan!
カテゴリー:SEISA NEWS(EN)
From its beginnings as a high school club, SEISA's "Creative Wadaiko (Japanese Drums) Group" has grown to bring courage and inspiration to people around the world, including Eritrea and Saipan. During the past year, we have been affected by COVID-19, but we have continued our activities with the support of the local community in the Wakabadai area of Yokohama, where we are based.
The Yokohama Taiko Festival is held every year. This year, we were selected to receive a grant from the Nippon Taiko Foundation to hold the festival as a Kanagawa Prefecture event. Ten taiko groups from the Corona disaster area will gather for this concert to pray for good health. We hope that this concert will serve as an opportunity to further strengthen the bonds between fellow groups connected by taiko and to help each other.
As this year's event is a grant-funded project, admission is free. We hope you will take this opportunity to experience the powerful energy expressed through taiko.
Yokohama Taiko Festival 2021 - Concert for Good Health
Let's Connect With Our Friends! It's such a time!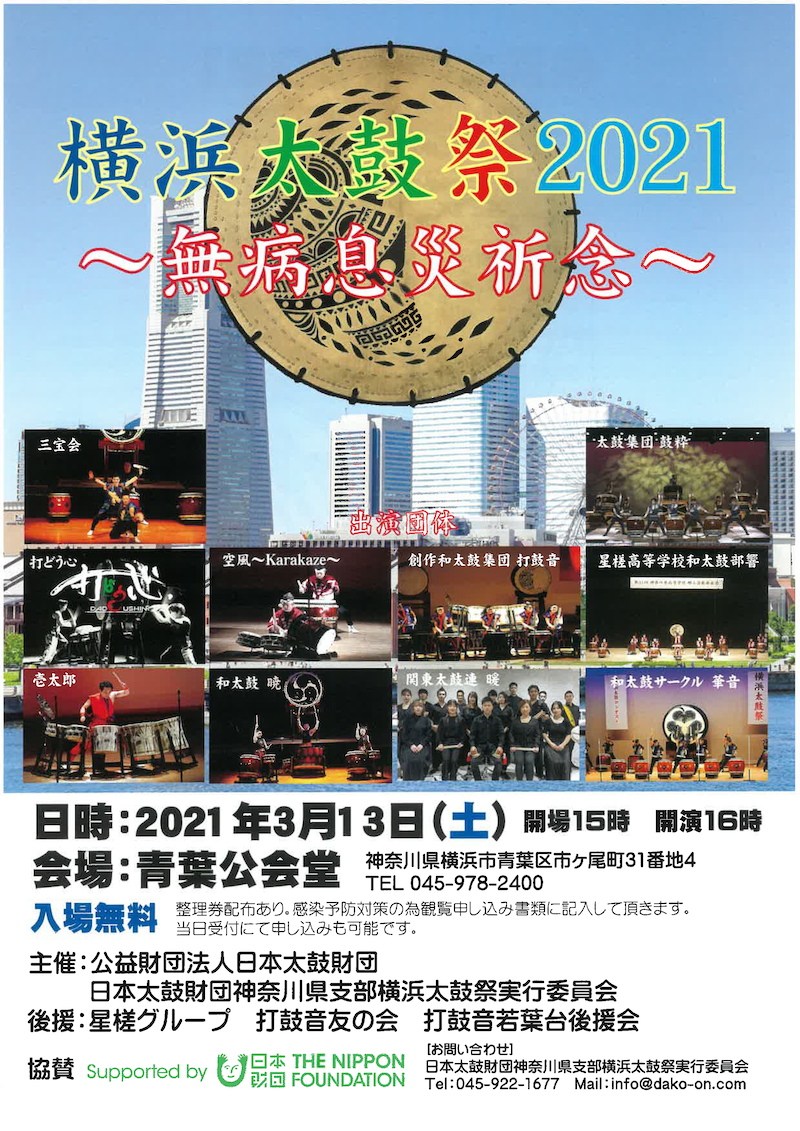 Venue: Yokohama City Aoba Public Hall (http://www.aoba-kokaido.com/)
Date: Saturday, March 13, 2021
Time: 16:00 - 19:00
Fee: Free
Organizer: Nippon Taiko Foundation, Yokohama Taiko Festival Executive Committee, Kanagawa Branch, Nippon Taiko Foundation
Supporters: SEISA Group, Dakoon Friends Group, Dakoon Wakabadai Supporters Group
Sponsored: The Nippon Foundation