Received Comments from the Archery Representative from the Kingdom of Bhutan, Karma, and Her Coach, Sally, for The TOKYO 2020!
カテゴリー:SEISA NEWS(EN)
We have received comments from Mr. Karma and Coach Sally, the representative of Bhutan for the Tokyo 2020 Olympic and Paralympic Games, who have been holding a pre-game training camp at the SEISA Hakone Campus since Tuesday, July 13th!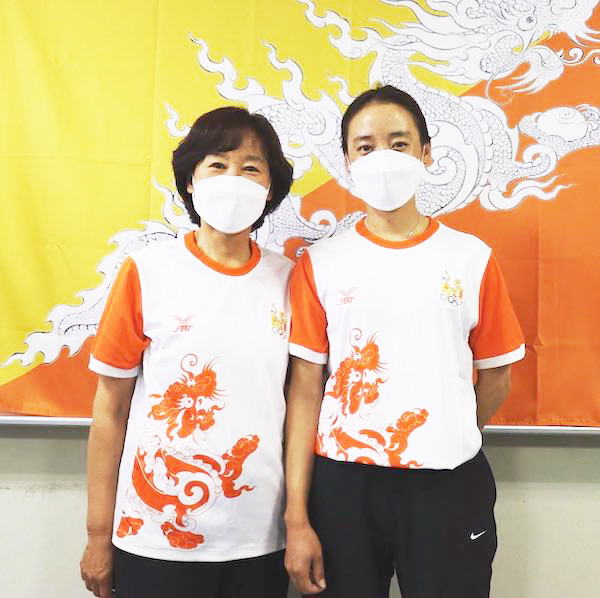 Karma (photo: right)
Hakone is very similar to Bhutan (in terms of scenery), and I feel comfortable here and can concentrate on my practice. Since arriving in Hakone, I have been taking a hot spring every day. My condition is getting better.
I would like to express my gratitude to Mr. Miyazawa and his staff for providing us with indoor practice facilities at the SEISA Hakone Campus and a range of facilities on the ground that is the same as those used for games.
On the 14th, 15th and 16th, I had the opportunity to greet students at SEISA Junior High School via Zoom. I was surprised to see so many junior high school students there. Thank you for your messages of support. I was also very happy to find out that there are many children who are interested in archery.
From now on, I will practice more in Hakone and try to compete with the power of your support so that I can give a good report. Thank you very much.
Bhutan National Archery Player Karma
Coach Sally (photo: left)
Hakone is a very safe and secure place, with good infection prevention measures in place. I am very happy to have a pre-camp in Hakone. Thank you very much. Mr. Miyazawa has been talking about the hot springs in Hakone for a long time, and now that we are practicing in Hakone and taking hot springs every night, I finally understand what he means. It's really great. Thank you very much.
Karma's condition is gradually improving. Her physical and mental conditions are in good shape. On Saturday and Sunday, we practice in the evening. This is not possible in Bhutan, and Karma has no experience in night games. We were allowed to use the night practice facility in Hakone, and it was very helpful to be able to practice in advance of the Olympic games, which are scheduled in the evening and at night. We were also able to practice in the rain.
Archery is a mental sport where you have to battle against wind, rain, temperature, and yourself. I am very grateful for the quiet environment that you have provided. Thank you very much.
Sally, Head Coach, Bhutan Archery Federation