SEISA Junior High School Women's Gymnastics Team Wins First Title in Kanagawa Prefecture! Going to Kanto Tournament!
カテゴリー:SEISA NEWS(EN)
Tokyo 2020 is also a hotly contested race, and SEISA students are also working hard.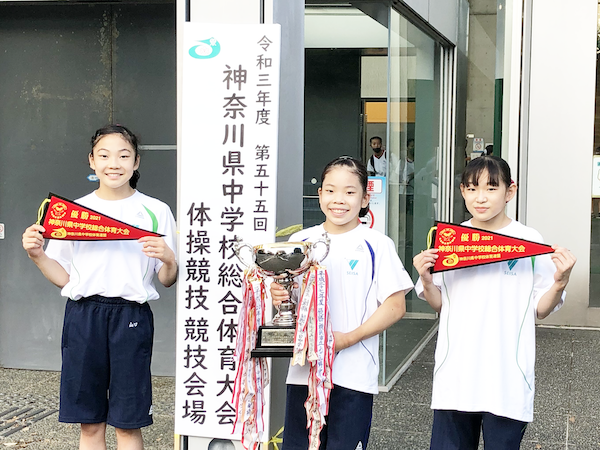 On Wednesday, July 28th, SEISA Junior High School Women's gymnastics team competed in the 55th Kanagawa Junior High School Athletic Meet and the 59th Kanagawa Junior High School Gymnastics Meet at the Kanagawa Prefectural Sports Center.
The results are as follows.
Women's Team 1st Place
Individual 1st place: Sora YAMAGUCHI (1st year) 2nd place: Jinka MIZUNO (1st year) 4th place: Yuuna TAGURO (2nd year)
From now on, the girls will compete in the Kanto Junior High School Gymnastics Competition to be held at ALSOK Gunma Arena on August 5th.
If we win this competition, we will go on to compete in the National Junior High School Gymnastics Meet (Kanagawa, 19-21st August).
We hope that the support of our friends across the country will encourage the three of us who have been performing so well since our first year.
We look forward to seeing you all in action!
Picture: From left to right: Mr. YAMAGUCHI, Mr. TAGURO, Mr. MIZUNO