Yuma KAGIYAMA, Senior Student at SEISA Kokusai High School Yokohama, Japan, Finally Qualifies for the Beijing Olympics!
カテゴリー:SEISA NEWS(EN)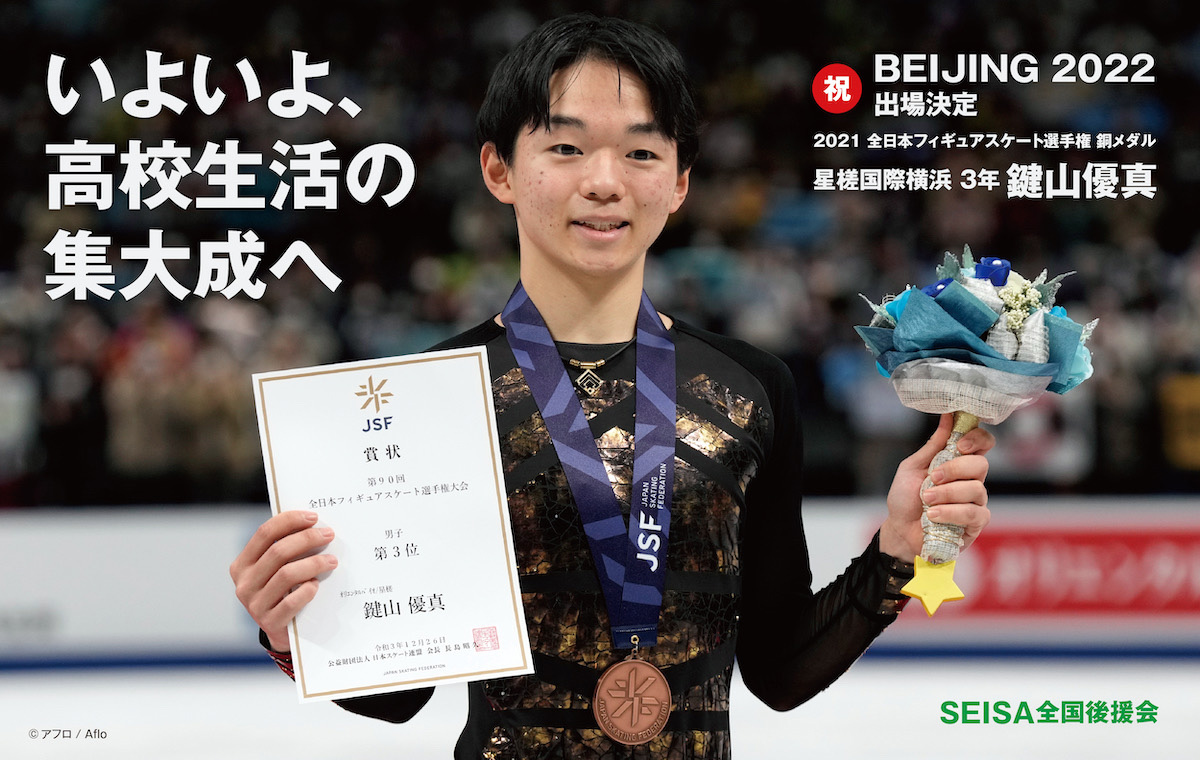 Yuma KAGIYAMA(Oriental Bio / SEISA), a senior student of SEISA Kokusai High School Yokohama, competed in the 90th All Japan Figure Skating Championships to be held at Saitama Super Arena from December 22nd, 2021. In the short program on Friday 24th, he finished in 3rd place behind HANYU and UNO, and in the free program on Sunday 26th, he finished in 2nd place behind Hanyu, winning the bronze medal in the overall standings.
Kagiyama has already qualified for the Grand Prix Final, which was due to take place in Japan, and is one of the top three skaters in the ISU season's best scores, making his a strong contender for the 2022 Olympic Winter Games in Beijing.
For Kagiyama, who is in his third year, the Beijing Olympics will be the last, so to speak, culmination of his high school career. We have been talking with him since before he entered school about her plans to compete in the Olympics. Teachers and staff from SEISA Kokusai High School Yokohama, as well as parents and students from all over the country, were delighted with the results.
Coach Masakazu KAGIYAMA, who was an Olympian himself, expressed his gratitude to the students for their support. "I would like to express my gratitude to the SEISA staff and teachers and everyone for their support. Thank you very much!"
We hope that the students will learn to play, watch and support sports. Not just knowledge, but empathy and understanding. This is one of the important ways of learning by SEISA.
SEISA's top athletes, including Kagiyama, will continue to compete for the title of "STAR" of the SEISA schools. We look forward to your continued support.