Senior Student from SEISA Kokusai High School In Ashibetsu City, SEISA's Second Hometown, Served As Police Chief For A Day!
カテゴリー:SEISA NEWS(EN)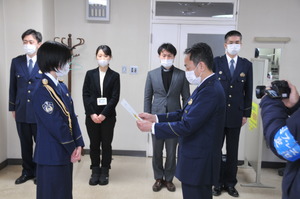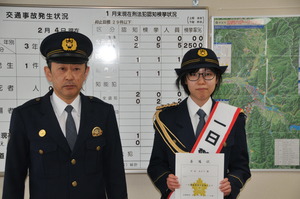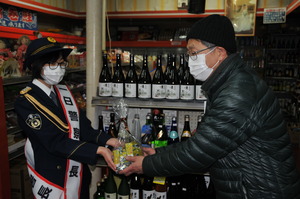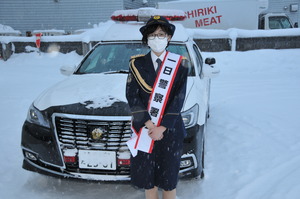 Ms. Akari TAKEUCHI, a senior at SEISA Kokusai High School Ashibetsu, was appointed as "Police Chief for a Day" by Ashibetsu Police Station, Hokkaido.
Ms. Takeuchi is the head of the illustration club. The illustration club made 500 badges with the campaign "Don't drink when driving" and donated them to the Ashibetsu Police Station, which in turn sold them with alcohol at convenience stores and liquor shops in Ashibetsu to help fight drink driving. We were also honoured to be asked by the Ashibetsu Police Station to become their Police Chief for a day.
Ashibetsu City, Hokkaido, is the birthplace of SEISA Kokusai High School and SEISA University. The name "SEISA" originated from the fact that the city is known as a "star-falling village" with a night sky full of stars. SEISA Kokusai High School has been operating together with the local community for 22 years since its establishment. SEISA believes that a school should be a place where students can grow up to become future leaders of society. SEISA Kokusai High School Ashibetsu is a model school that works together with the local community.
We think you very much for giving us this precious opportunity. SEISA will continue to work together with the people of Ashibetsu City to create the future.