SEISA OSA Rhea Shonan FC Qualified for the Empress's Cup for the First Time and Also Challenging to Join the Nadeshiko League!
カテゴリー:SEISA NEWS(EN)
Based on the results of the Empress's Cup 43rd All Japan Women's Soccer Championships in Kanto Preliminary Round, SEISA OSA Rhea Shonan FC was qualified for the Empress's Cup as 7th representative of Kanto Region.
This season, SEISA OSA Rhea Shonan FC belong to Kanto League Division 1, so the team participated from the Kanto preliminary round. In the seventh place play-off, which was the game to decide the final berth, the opponent team scored an opening goal and team SEISA faced an uphill struggle. However, they equalized with a free kick from the corner and scored another two points, which led them to score comeback victory.
The Empress's Cup is the top championships for women's soccer in Japan and this is the first time for SEISA OSA Rhea Shonan FC to participate in the championships since its establishment. Even though various games are canceled or postponed due to the pandemic of COVID-19, the members of SEISA OSA Rhea Shonan FC commented that they really appreciate the people who always support them which enable them to play soccer. They also said that they will do their best to embody the concept of SEISA and Rhea at the national championships. We look forward to your continued support.
【Game Schedule】
< The Empress's Cup >
First Round: November 27th, 2021 or November 28th, 2021
Second Round: December 4th, 2021, or December 5th, 2021
Third Round: December 11th, 2021, or December 12th, 2021
Fourth Round: December 25th, 2021
Quarterfinal: January 5th, 2022
Final: February 26th, 2022, or February 27th, 2022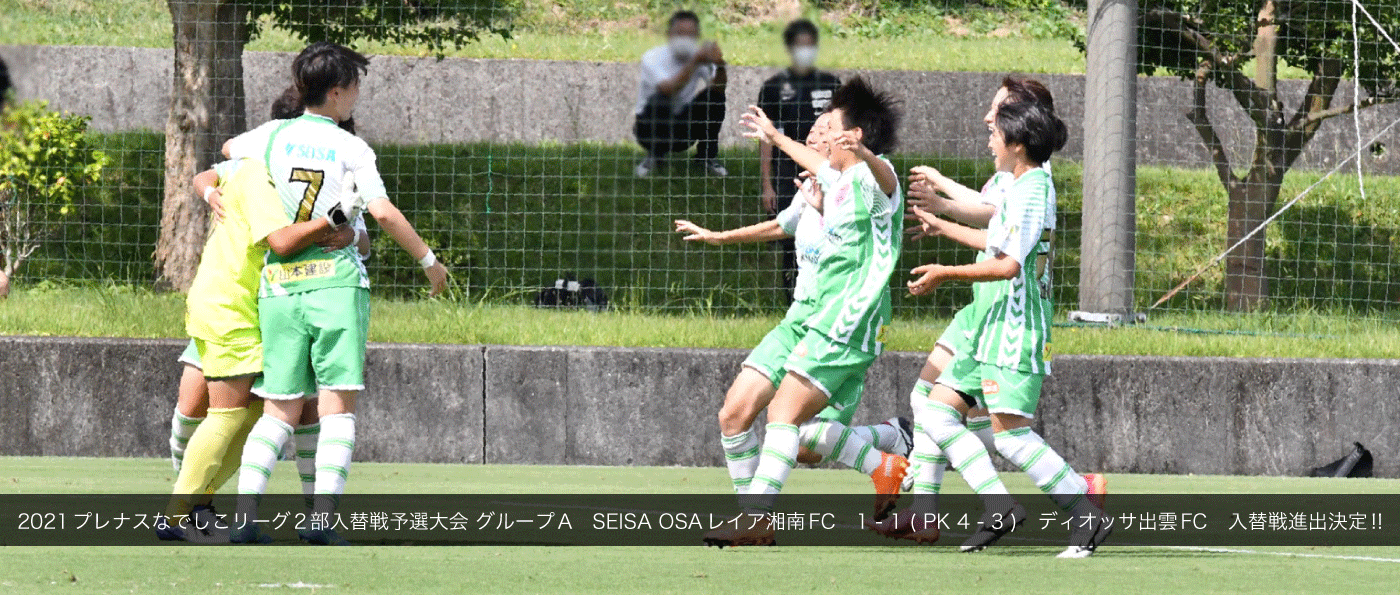 Besides, SEISA OSA Rhea Shonan FC participated in the Plenus Nadeshiko League Division 1 Promotion/Demotion Series Preliminary Competition for the first time, and on September 25th, they defeated Diosa Izumo FC in a penalty shootout. On the next day, team SEISA took on Diaborosso Hiroshima, which is the winner of group B, in the consolation final. Even though team SEISA lost by a score of zero to two, they finished second place in the qualifying round and will be participating in the Nadeshiko League Promotion/Demotion Series.
【Game Schedule】
< The Nadeshiko League Promotion/Demotion Series >
First Round: October 30th, 2021, or October 31th, 2021
Diavorosso Hiroshima
Second Round: November 6th, 2021, or November 7th, 2021
Ranked 8th Team in Nadeshiko League Division 2
Third Round: November 13th, 2021, or November 14th, 2021
Veertien Mie Ladies
【Japan Women's Football League HP】
http://www.nadeshikoleague.jp/2021/nl2_entry_a/match_page.html?mno=3
【SEISA OSA Rhea Shonan FC Twitter】
【SEISA OSA Rhea Shonan FC Instagram】
https://www.instagram.com/rhea_shonan/
【SEISA OSA Rhea Shonan FC Official YouTube】
https://www.youtube.com/channel/UCif7yPL5n67mbrDI40w2-8w
【SEISA OSA Rhea Shonan TV】